​
Requirements
PostgreSQL or MySQL server.
​
Step 1: Open the .NET solution
Open the NetcoreSaas.sln solution with Rider or Visual Studio.
There are 3 environment files on the backend:
appSettings.json: Production
appSettings.Development.json: Development
appSettings.Testing.json: Testing
And 2 environment files on the frontend:
.env.production
.env.development
​
Step 2: Find and Replace Environment Variables
You need to Find and Replace the following values.
IMPORTANT: Use the 'Match case' find and replace option: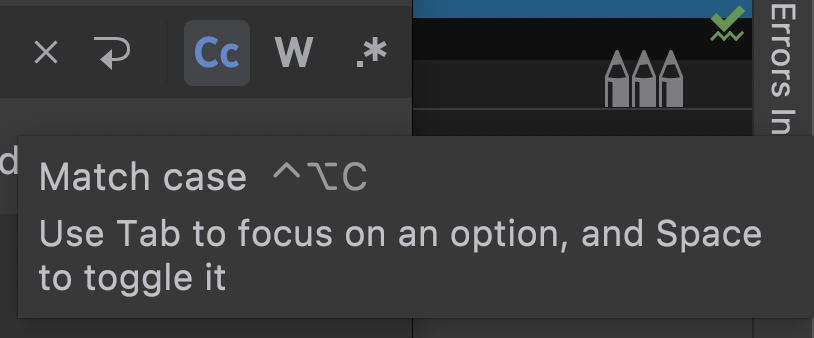 PRODUCT_URL

: Your SaaS URL (without https:// or slashes)

.

PRODUCT_NAME

: Your SaaS name

.

SUPPORT_EMAIL

: e.g. admin@saasfrontends.com

.

COMPANY_NAME

: Legal incorporation name

.

COMPANY_ADDRESS

: Incorporation address

.

POSTMARK_SERVER_TOKEN

: An UUID, get it here.

POSTMARK_SENDER_NAME

: e.g. Alex, get it here.

POSTMARK_SENDER_EMAIL

: e.g. hello@saasfrontends.com, get it here.
Development environment:

DEVELOPMENT_DATABASE_NAME

:

e.g. dev-db

.

DEVELOPMENT_SERVER

:

e.g. localhost

.

DEVELOPMENT_PORT

:

e.g. 5432

.

DEVELOPMENT_USER

:

e.g. testing

.

DEVELOPMENT_PASSWORD

:

e.g. password123

.

DEVELOPMENT_STRIPE_PUBLIC_KEY

: get it here.

DEVELOPMENT_STRIPE_SECRET_KEY

: get it here.

DEVELOPMENT_ADMIN_EMAIL

:

e.g. admin@saasfrontends.com

.

DEVELOPMENT_ADMIN_PASSWORD

:

e.g. password123

.

Testing environment:

TESTING_DATABASE_NAME

:

e.g. tests-db

.

TESTING_SERVER

TESTING_PORT

TESTING_USER

TESTING_PASSWORD

TESTING_STRIPE_PUBLIC_KEY

: get it here.

TESTING_STRIPE_SECRET_KEY

: get it here.

Production environment:

PRODUCTION_DATABASE_NAME

:

e.g. prod-db

.

PRODUCTION_SERVER

PRODUCTION_PORT

PRODUCTION_USER

PRODUCTION_PASSWORD

PRODUCTION_STRIPE_PUBLIC_KEY

: get it here.

PRODUCTION_STRIPE_SECRET_KEY

: get it here.

PRODUCTION_ADMIN_EMAIL

PRODUCTION_ADMIN_PASSWORD
For example, if my website will be saascourses.net, I'll replace PRODUCT_URL (using Match case):

​
Frontend Service Mode
Since we'll be running the backend, open the .env.development file and set the …_APP_SERVICE variable to api.
Learn more about the Fake API feature.
# Options: api, sandbox




..

._APP_SERVICE

=

api


..

.
​
Step 3: Database Migrations
On the terminal and run the following commands.
Note: By default, it will take the Development environment (appsettings.Development.json).
cd

 src/NetcoreSaas.WebApi
dotnet ef migrations 

add

 Initial --context MasterDbContext
Expected output:
Build started

..

.
Build succeeded.
Done. To undo this action, use 

'ef migrations remove'
Then apply the migration to the database:
dotnet ef database update --context MasterDbContext
Since the Startup.cs class runs the migration twice (for multi-tenancy purposes), you can ignore the following error.
..

.
42P07: relation 

"AuditLogs"

 already exists
Verify that the database was created.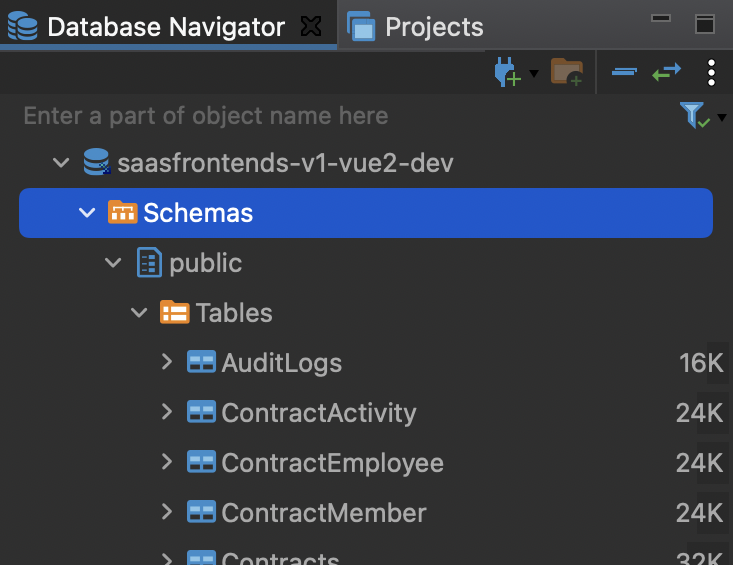 Note: The previous image is the
DBeaver
application connected to a local PostgreSQL server.
​
Step 4: Debug the app on Rider or VS
Select the NetcoreSaas.WebApi: NetcoreSaas configuration and Debug the app.

The Web API + Client app will launch at port 5000.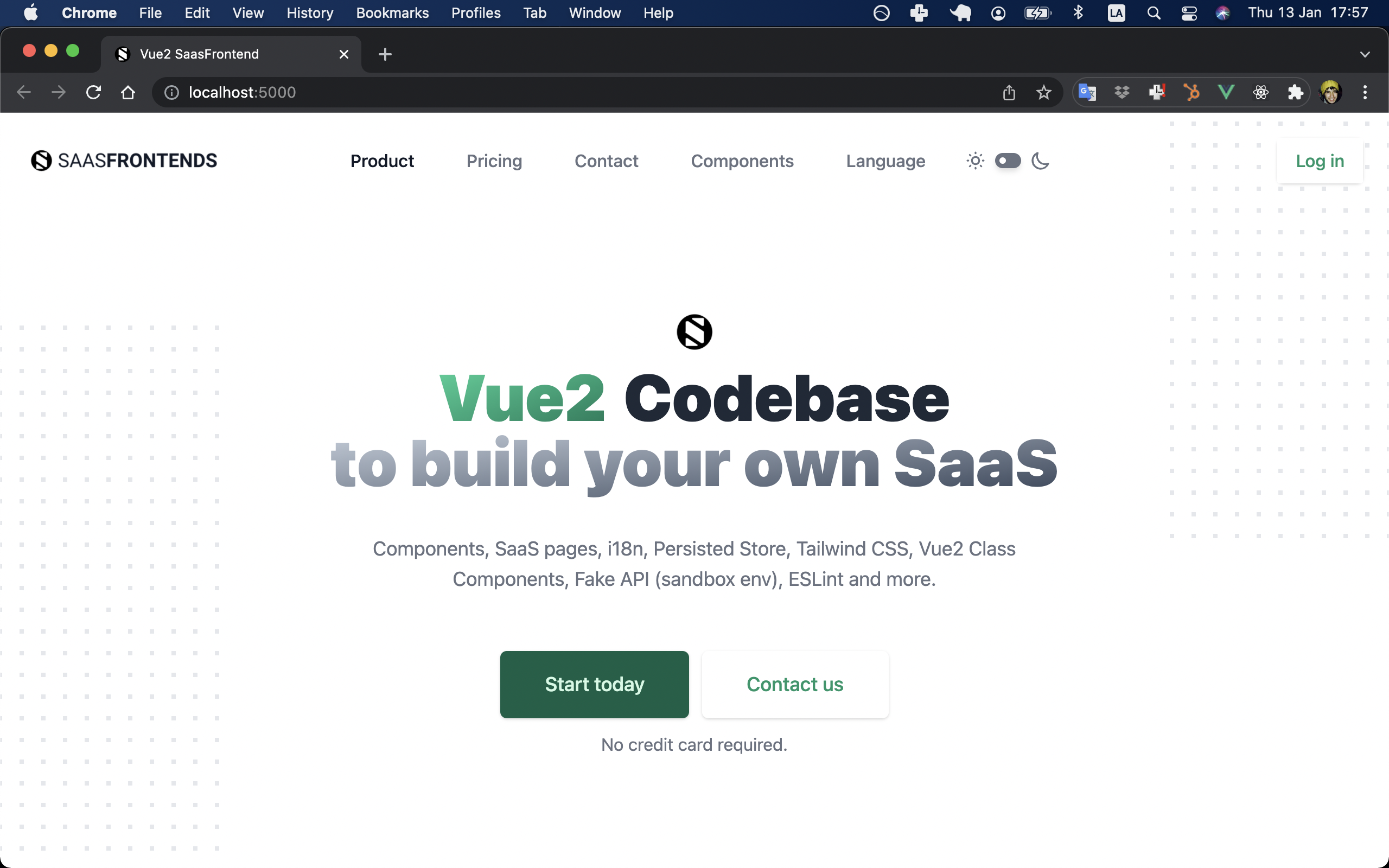 ​
Step 5: Run the Frontend on VS Code
For Vue2 projects:
npm

 

install




npm

 run serve
For Vue3, React and Svelte projects:
npm

 

install




npm

 run dev
And open http://localhost:8080.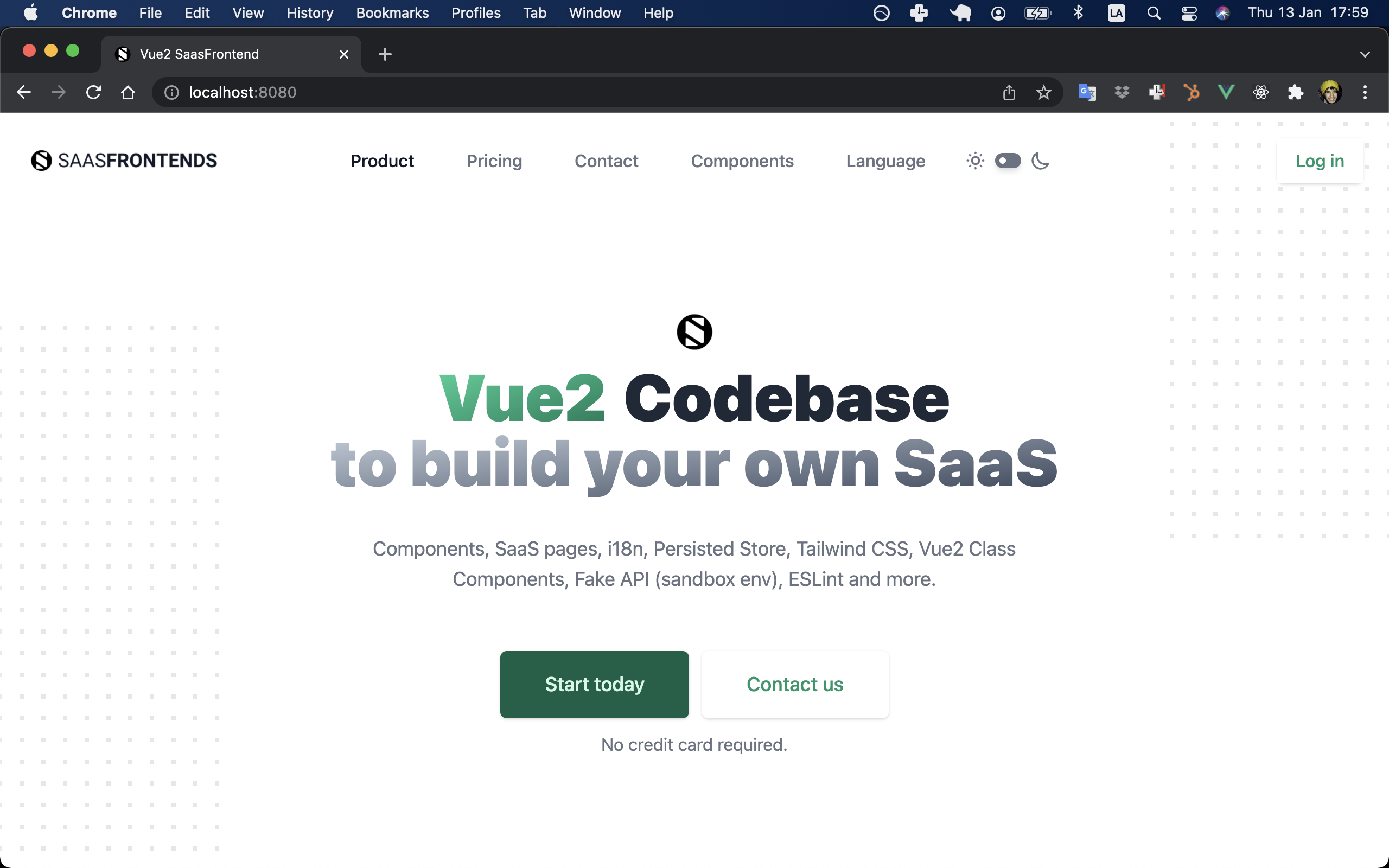 ​
Step 6: Set up your pricing
​
Pricing plans
​
Preview
Open the /pricing URL and take a look at the default pricing: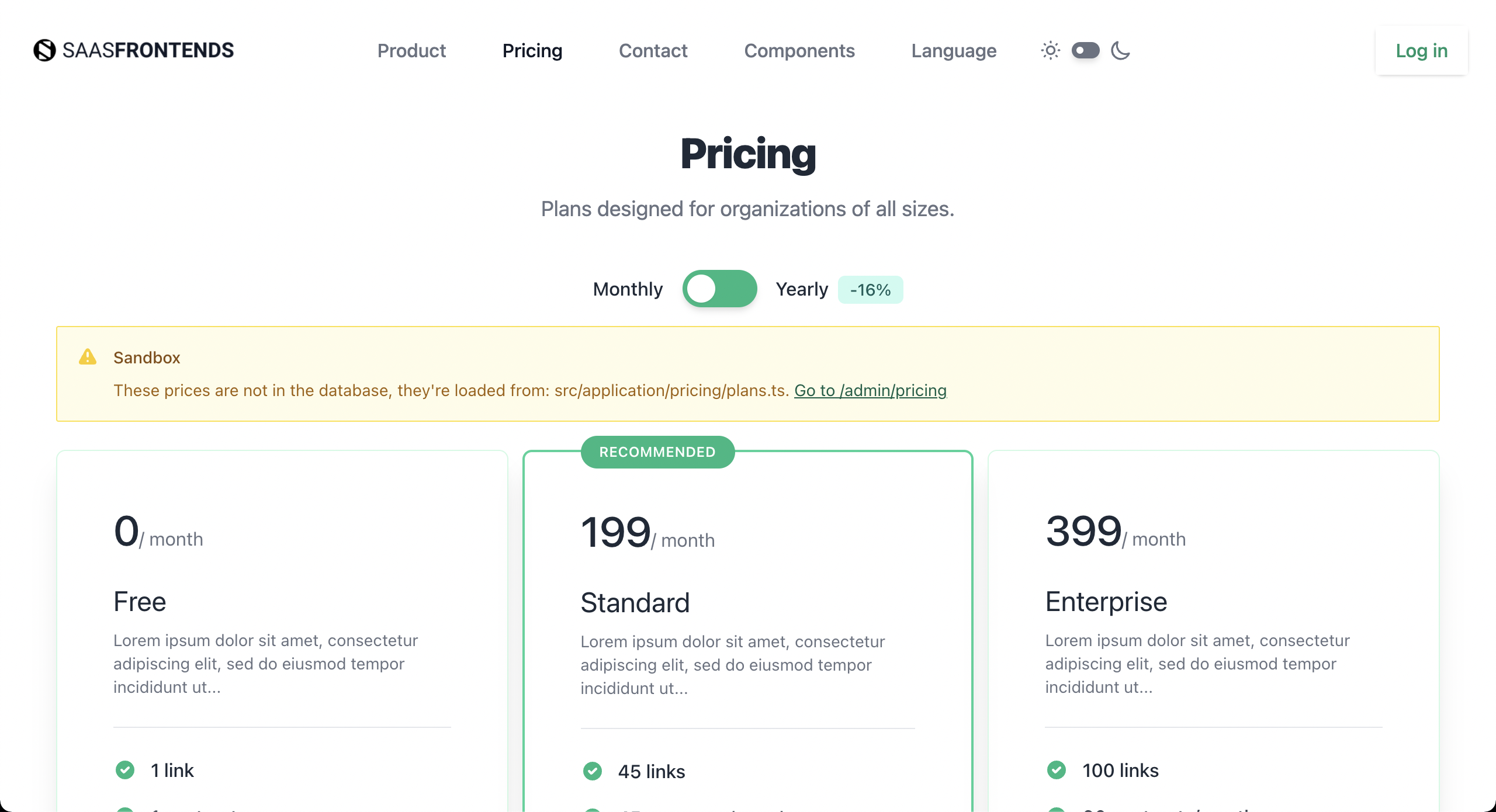 The warning banner is just telling you that these prices are yet to be created on the Database and Stripe.
Open the frontend src/application/plans.ts file and update the prices as you see fit.
​
Save Pricing
Once you're happy with your pricing, log in as your admin user (remember your DEVELOPMENT_ADMIN_EMAIL and DEVELOPMENT_ADMIN_PASSWORD values) and go to /admin/pricing.

Click on the button "Click here to generate these prices in Database and your Subscription provider" and wait a few seconds.
​
Verify your Stripe Dashboard
Open the Stripe dashboard and verify that the subscription products were created.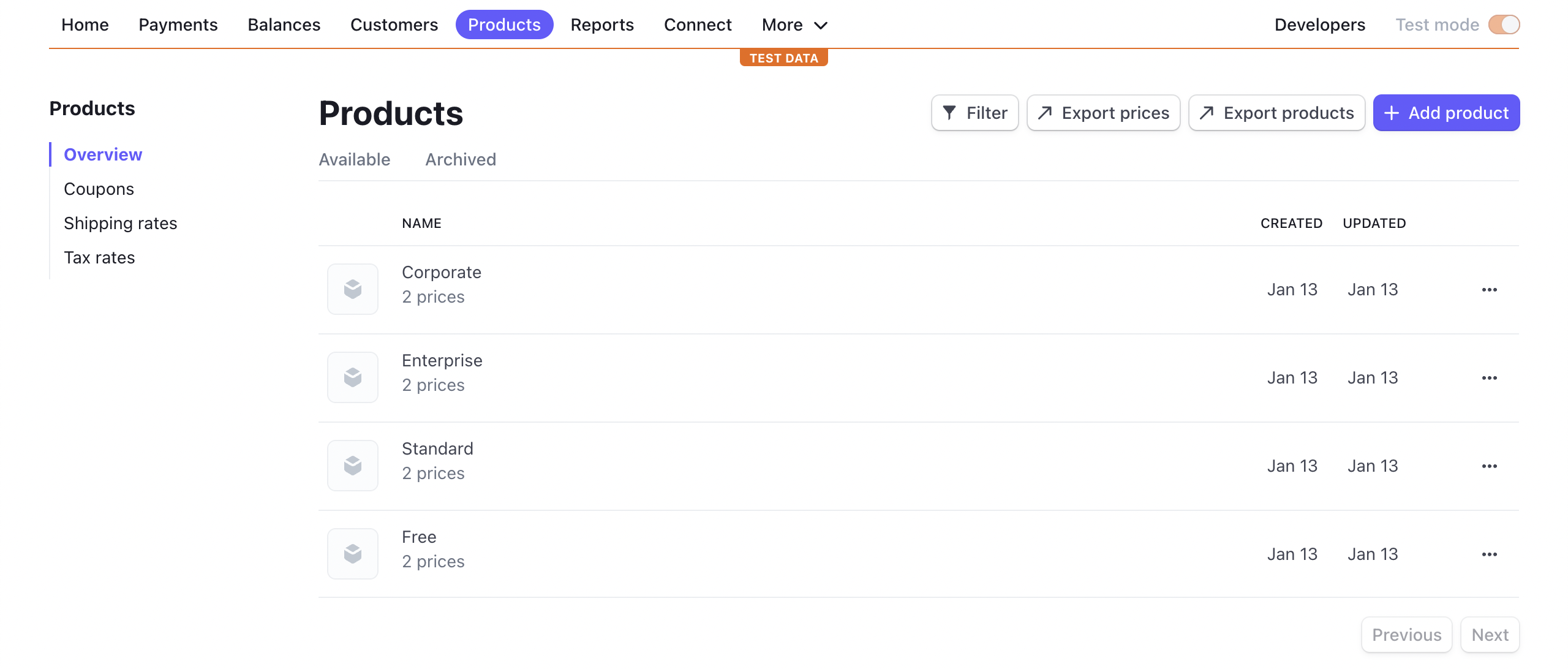 ​
Verify your Database
Run an SQL query to verify that your products were persited to your database.
select

 

*

 

from

 

"SubscriptionProducts"

;

​
Step 7: Set up Email Templates
Go to /admin/emails and take a look at the default templates: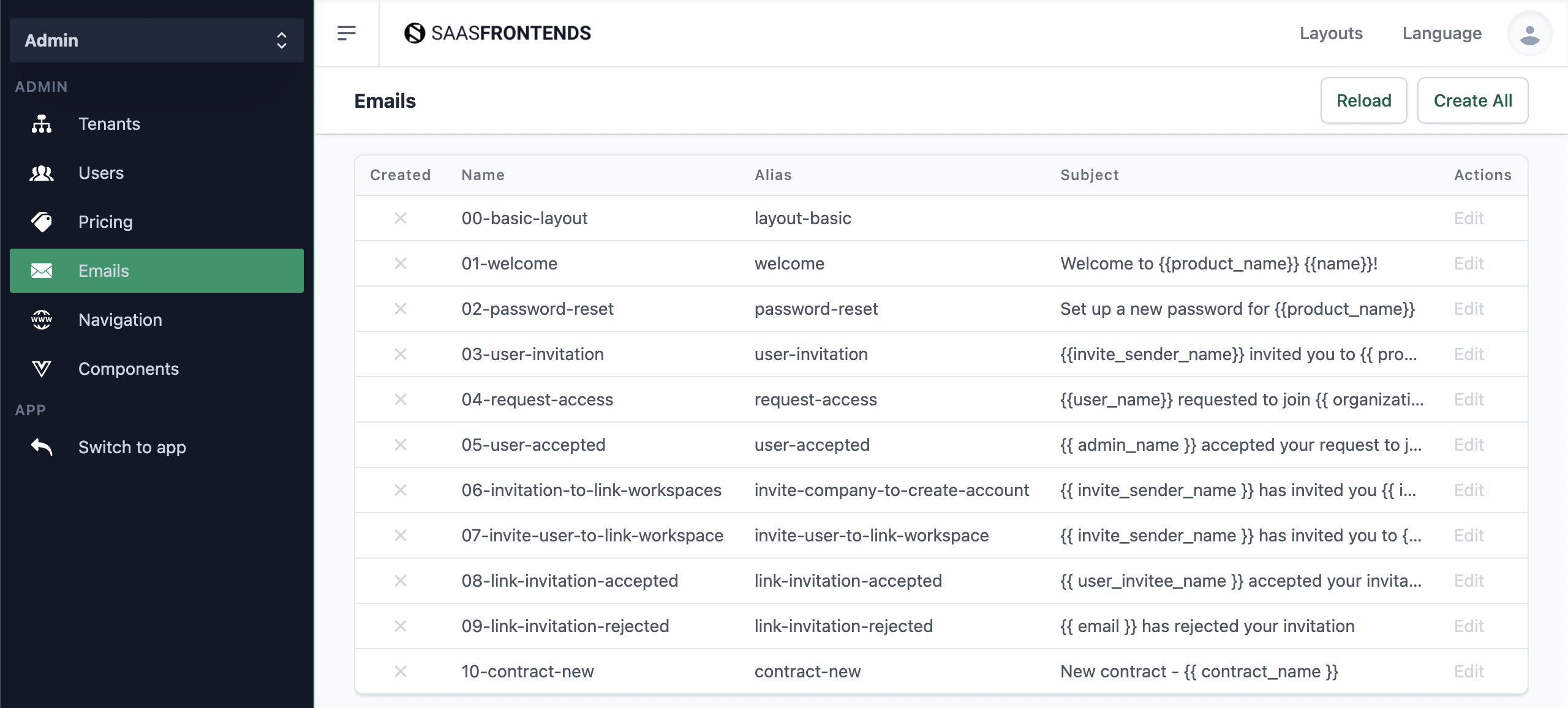 If you check your postmark server templates dashboard, it should be empty: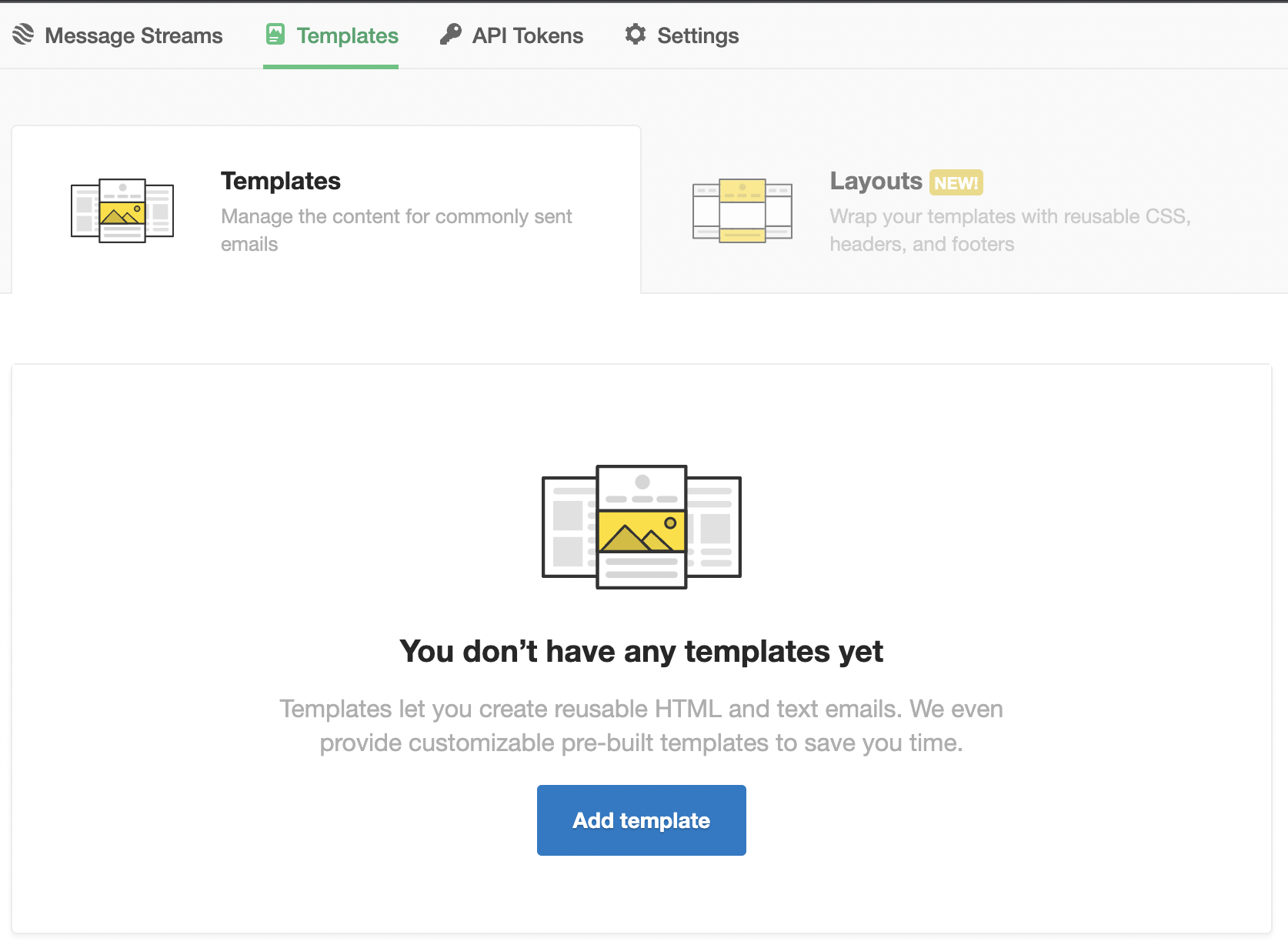 You can learn more about Postmark email templates here.
​
Creating the Postmark Templates
We need to create them by clicking on the "Create All" button and wait a few seconds.
Once the process is done, check your postmark server again, there should be 10 templates: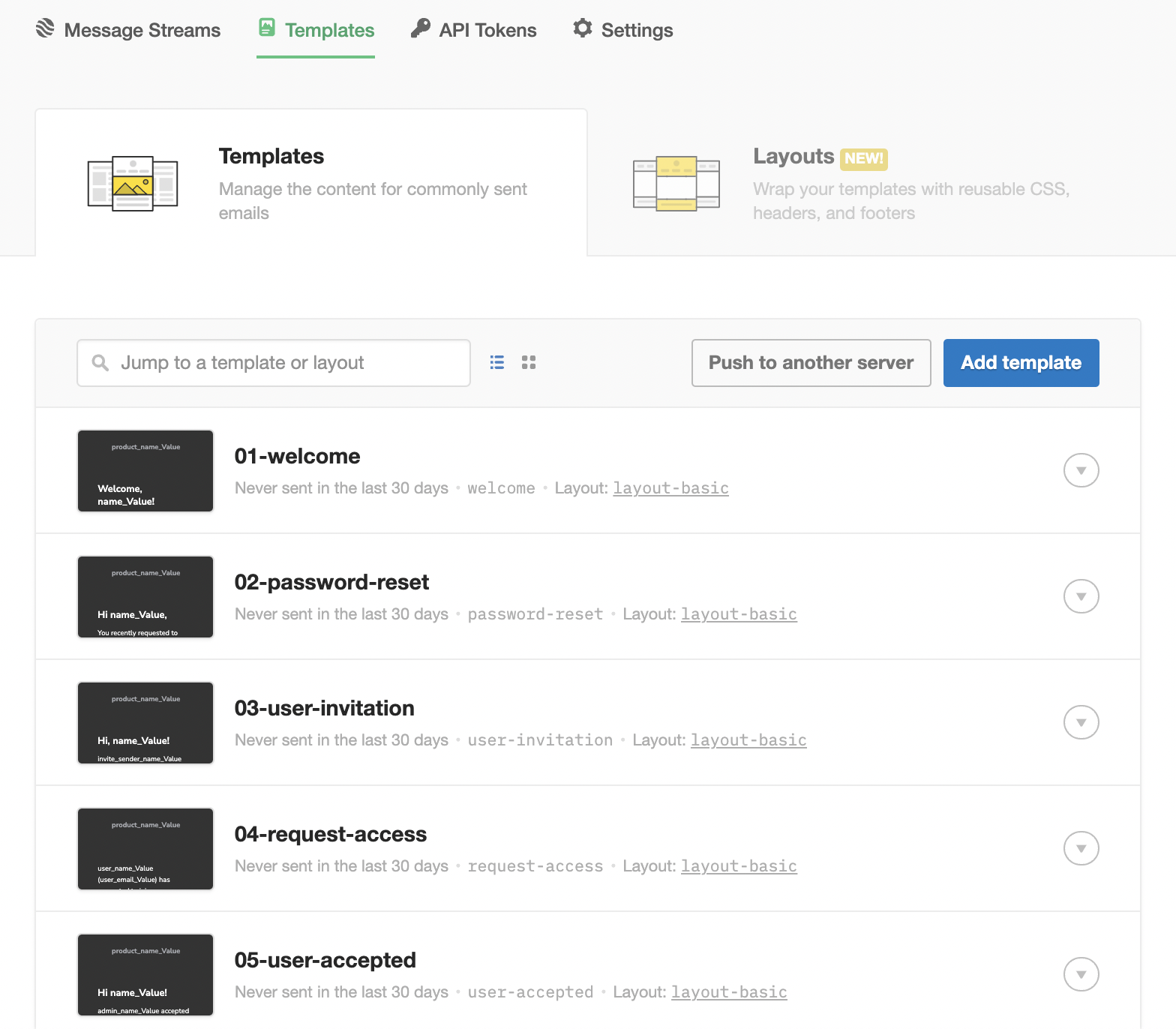 ​
Step 8: Create an account
​
Register
Log out, go to the /pricing page and select a plan to register as a new user/tenant.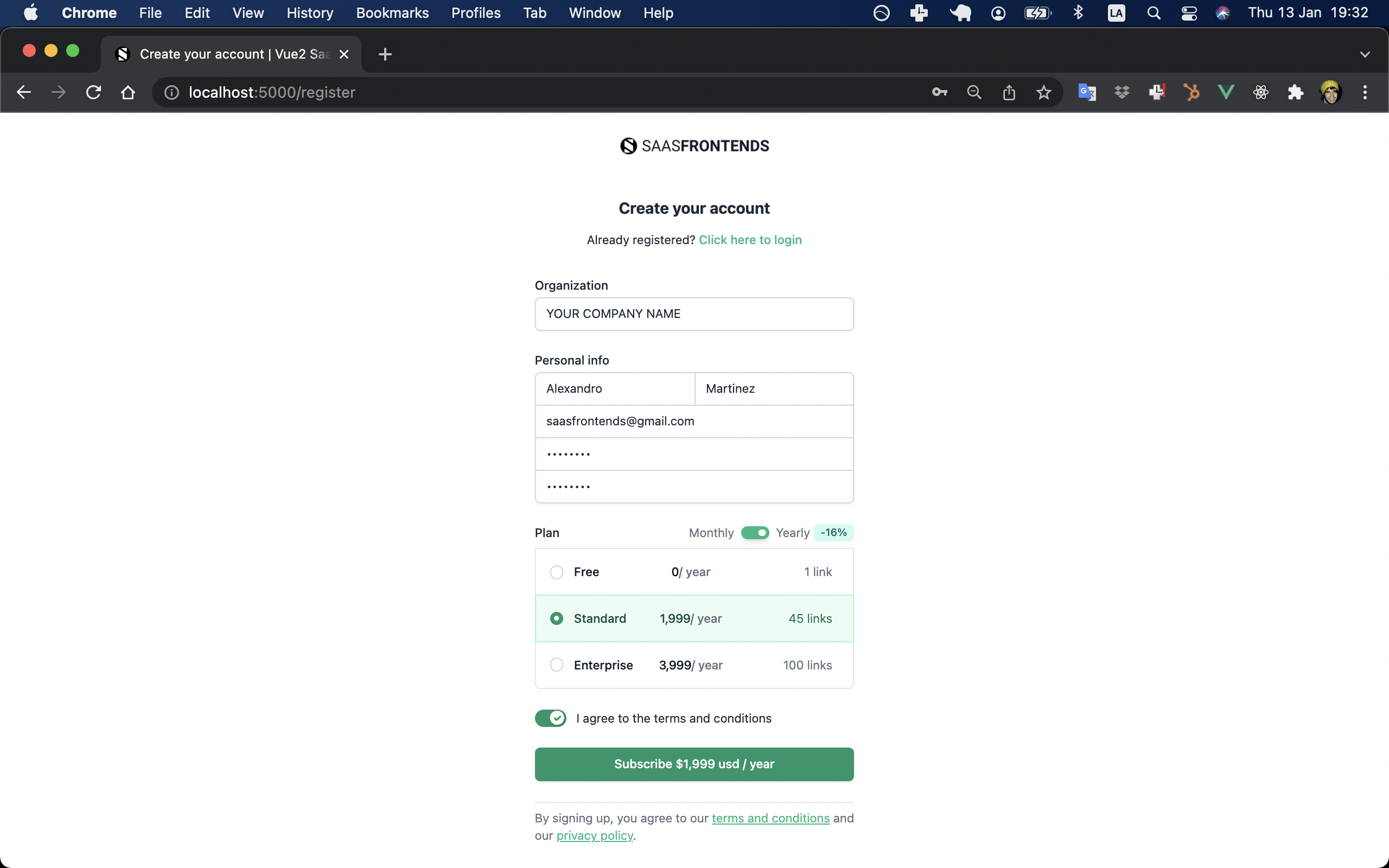 As you can see, I've selected a paid (yearly) plan, so it will ask for my payment info:

You can only use a testing card, learn more about it here, I'm using:
Card number:

4242 4242 4242 4242

.
MM / YY:

04 / 24

.
CVC:

242

.
ZIP:

42424

.
​
Dashboard
It should redirect you to the /app/dashboard:
​
Welcome Email
Verify that you got the welcome email: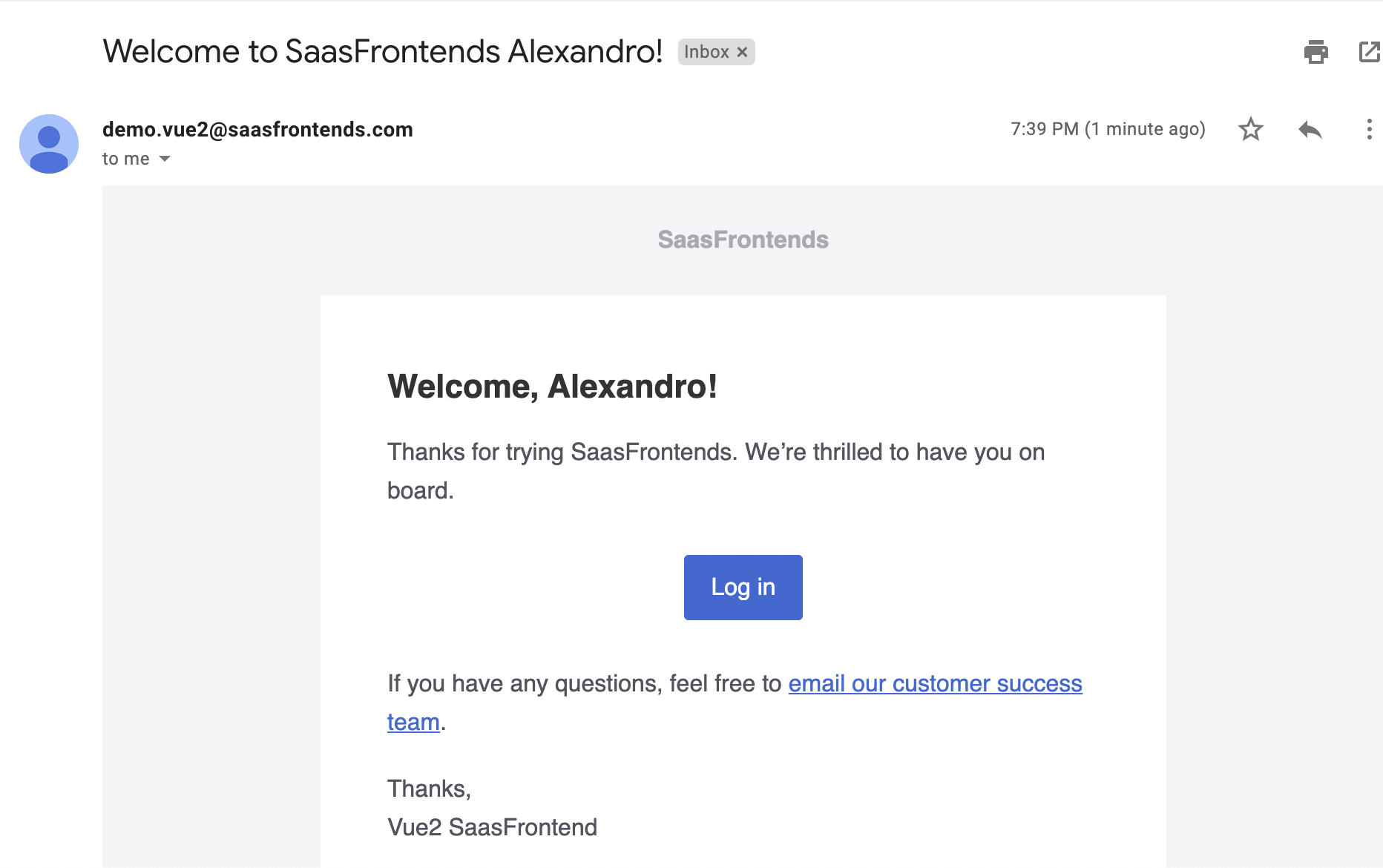 ​
Stripe Payment
Verify that the payment is on your Stripe dashboard:

​
Step 9: Test the App
Now we're ready to test the sample app.
​
Employees
Create an employee by clicking the Employees sidebar item, and "Add employee" button: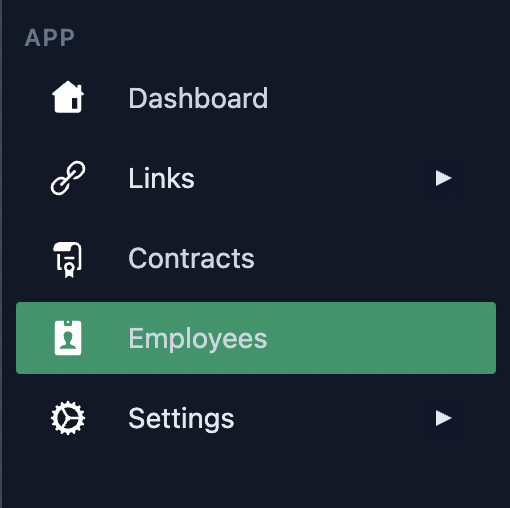 It will redirect you to the employees list page:

Verify that the Employee is created on the database:
select

 

*

 

from

 

"Employees"

;

​
Links
A Link is a core concept of SaasFrontends. It allow your users (tenants) to create links between them.
In this sample app, a Link consists of the Client and the Provider. Either of them can create a share a Contract with the other.
​
Invite a user as your Client
Click on the Plus button on the top right corner and Click on the "New Client" option.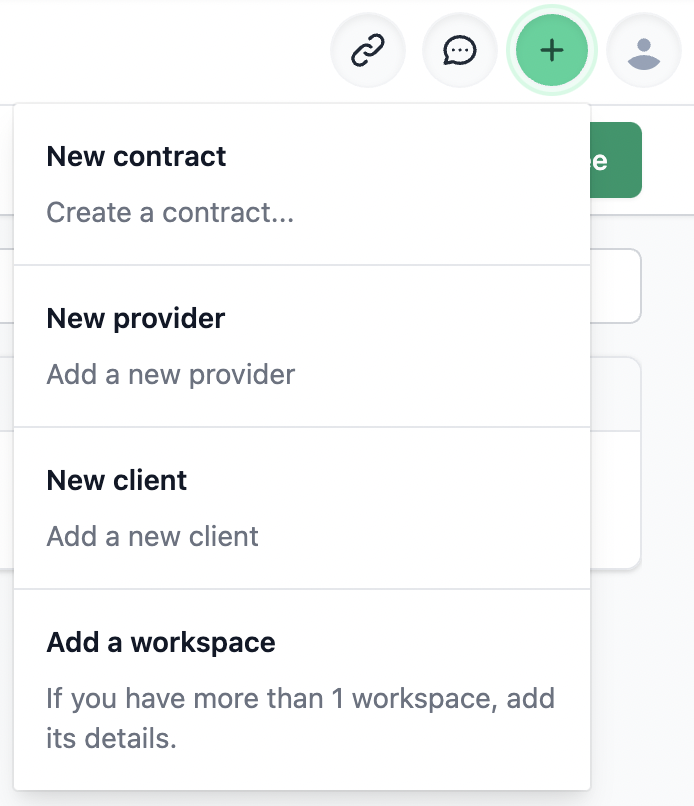 Invite your 'client':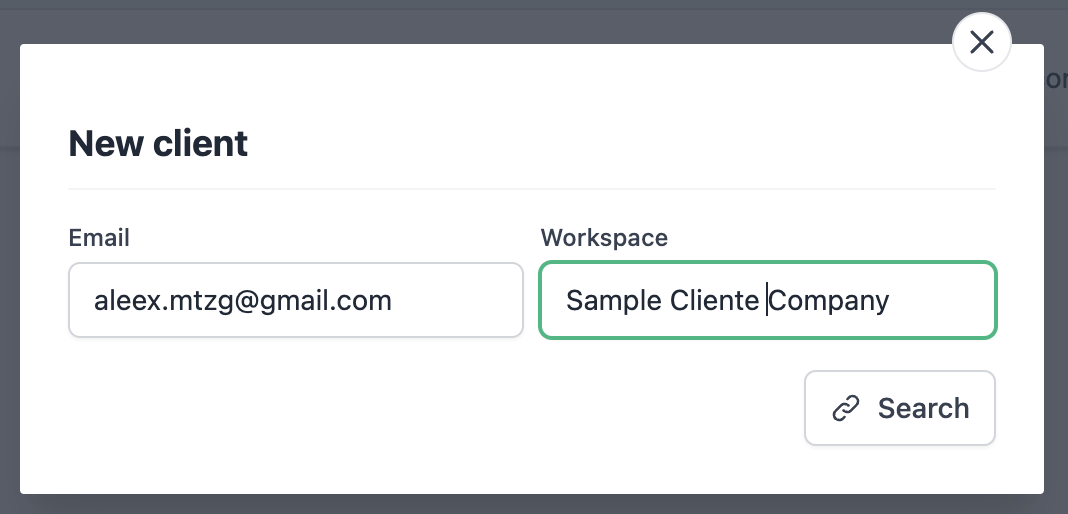 Check your inbox, you should get an invitation to join: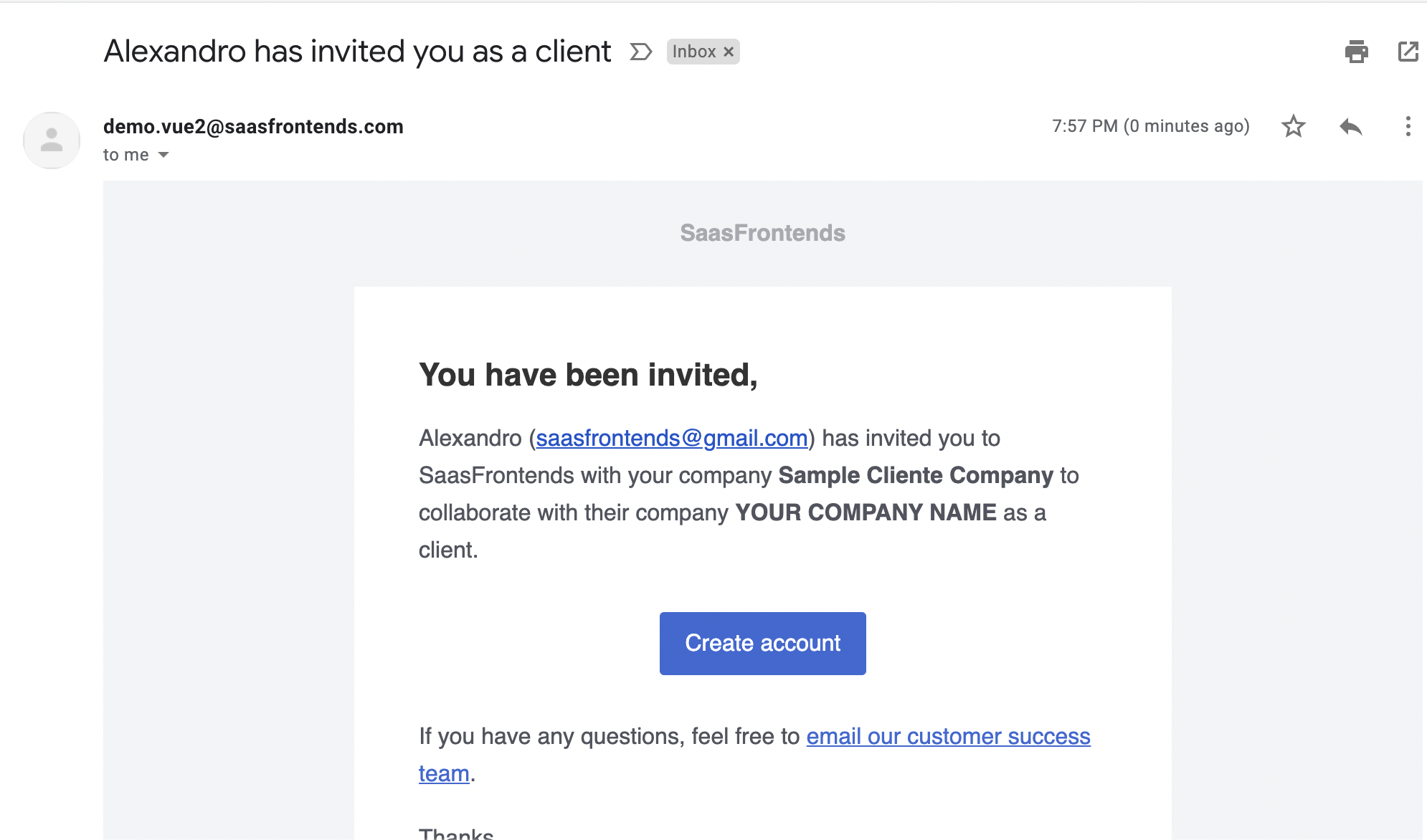 Click on the "Create account" button, it will redirect you to create an account. I'll be selecting a Free plan.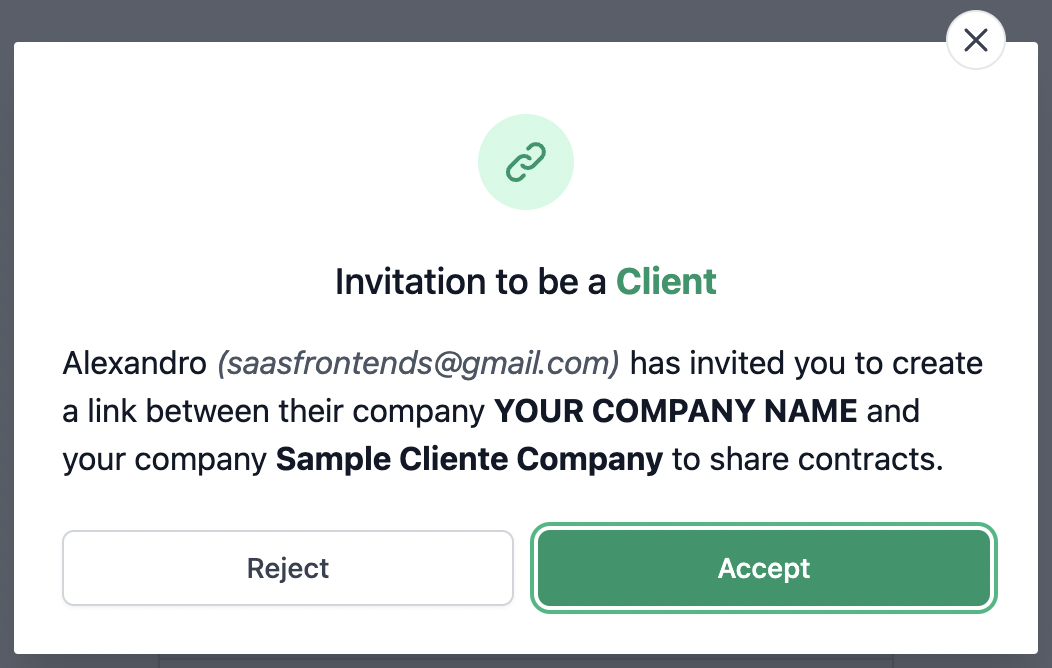 It should redirect you to the /app/dashboard. Log out, and Log in as the previously created user (on Step 8).
​
Verify the created Link
Click on the Links -> All sidebar item. There should your 'client'.

​
Contracts
Click on New contract, and create a sample contract. Once created, it will redirect you to view the contract details: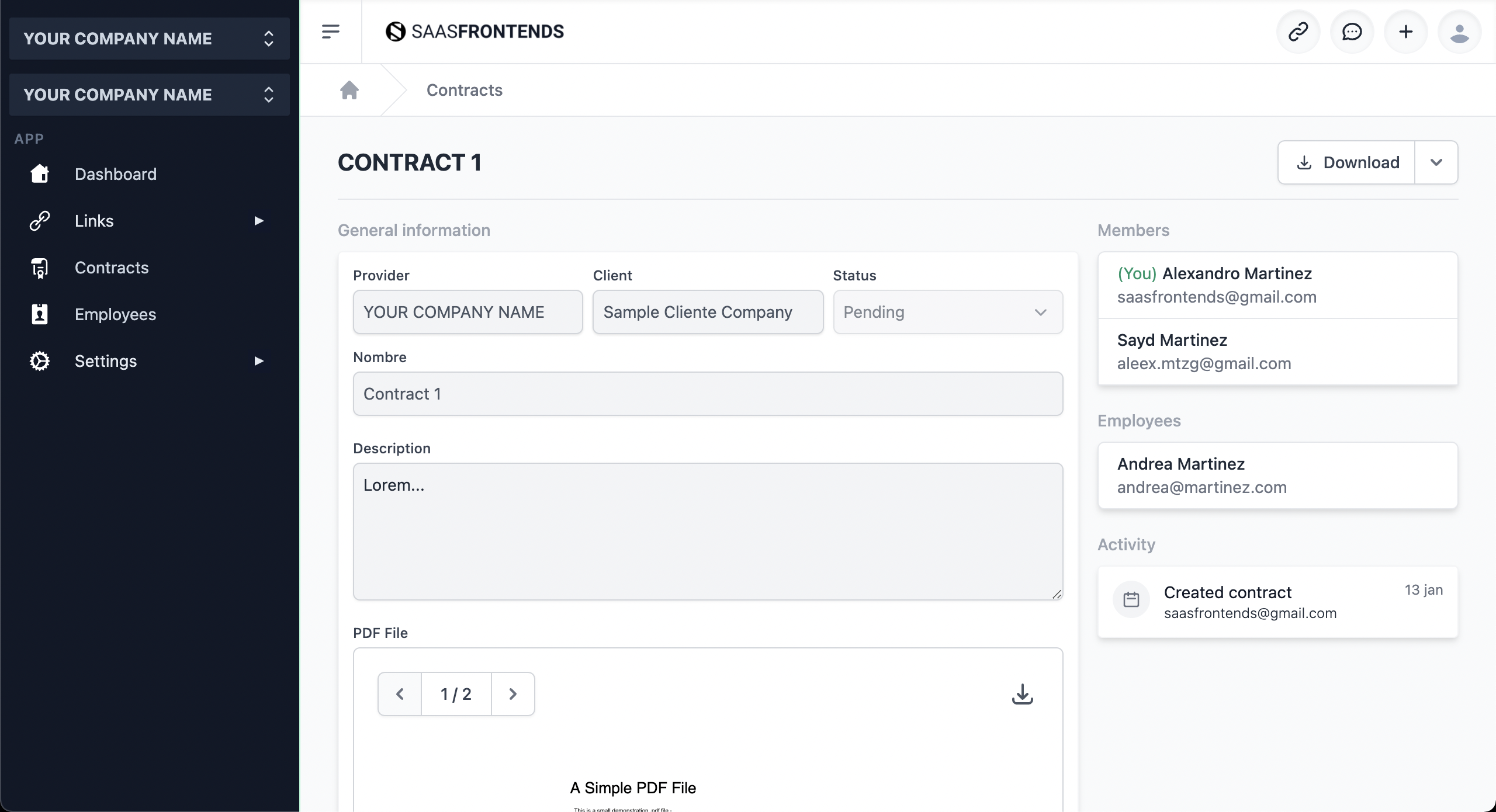 ​
Step 10: Integration Tests
Stop the application and go to the Unit Tests tab:

Right click on the "tests" folder and click "Run Selected Unit Tests".
All 91 tests should pass: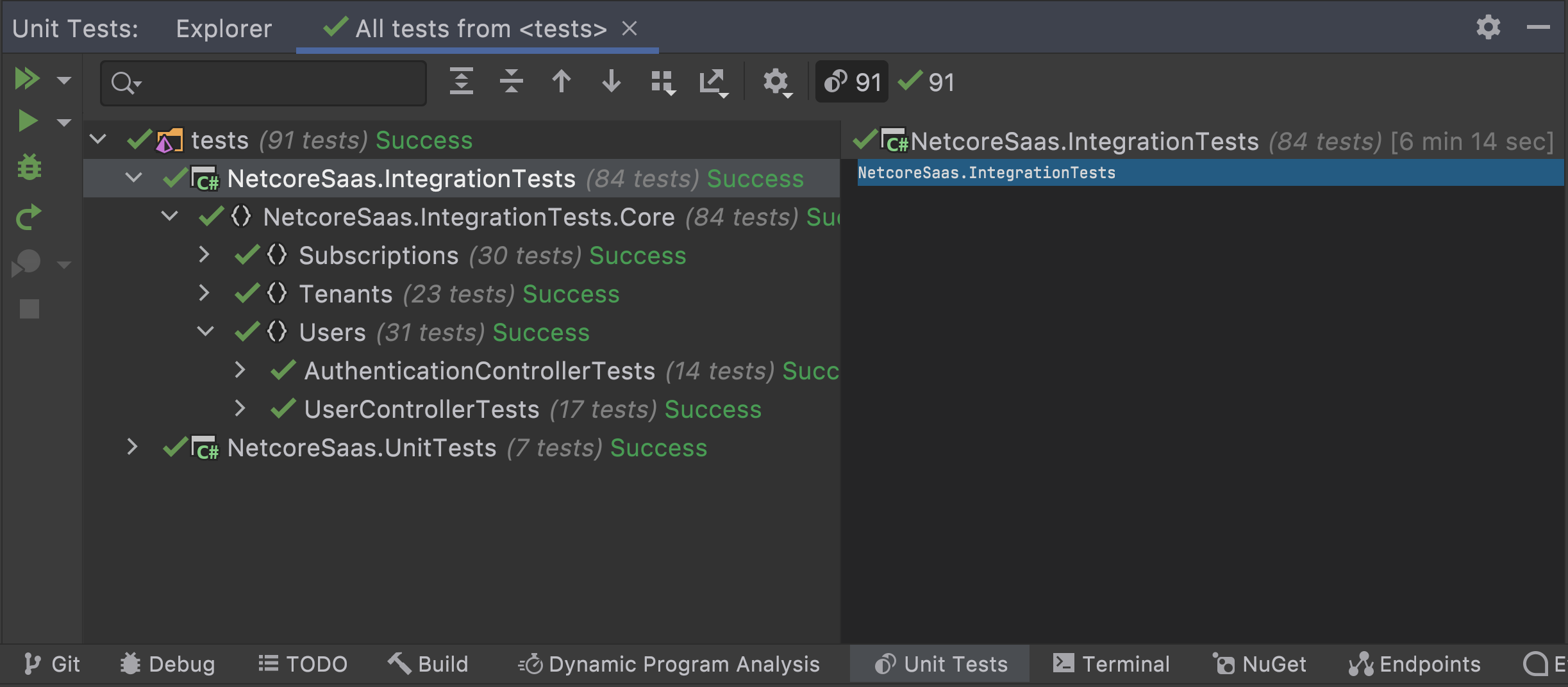 —
Please let me know if you have any questions.